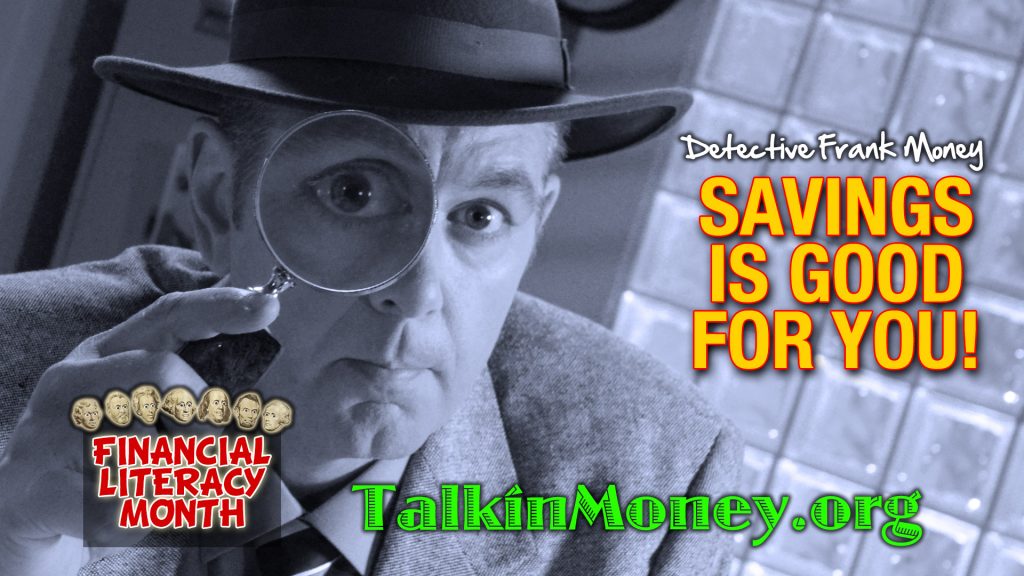 I'm Frank Money, and I wanna help you investigate everything about money! For example, let's investigate savings. It doesn't take much detective work to understand that savings is good for you!
And here's the good news for millennials – you are saving at a rate greater than any generation before you. Fidelity Investments found that 20 somethings are saving on average 7.5% of their income compared to 5.8% in 2013.
We've talked about retirement savings, and how important it is to start as soon as you can, along with the benefits of deferring taxes and saving on how much income tax you pay when you invest in a 401k, IRA, etc.
But what about non-retirement savings?
One strategy to employ is to set a goal of savings out of each pay check, and to make that 'payment' to you savings account, just like you pay your rent, phone and electric bill. Over time, you grow your savings account and let your money work for you.
What's the amount you should save? well, it varies from person to person, but a good rule of thumb is to save 10-15% of your gross income (the amount you make BEFORE taxes are deducted) and use that for both your retirement accounts as well as non-retirement accounts.
It takes discipline, but getting used to a regular savings plan is something all millennials need to consider. It doesn't take much detective work to understand– SAVINGS IS GOOD FOR YOU!
April is National Financial Literacy Month, Detective Frank Money's favorite month! To celebrate the importance of being financially literate, Detective Money is going to post financial literacy tips every day.
Posted inDetective Frank Money, Financial Literacy Month, Savings | TaggedDetective Frank Money, Financial Literacy Month, Financial Literacy Videos, Savings, Talkin' Money
Wade Edwards was the son of John and Elizabeth Edwards. He died at the age of 16 in a car accident when strong winds caused his Jeep to run off a North Carolina highway in 1996. He was remembered today as news of his mother's lost battle to breast cancer swept the world.
Wade Edwards (Wade.org)
In light of Elizabeth's passing after a 6-year battle with the disease, her family is asking that donations be made to the Wade Edwards Foundation, which benefits the Wade Edwards Learning Lab. The lab has resources for teens, including computer access.
The Edwards family issued the following statement today after confirming Elizabeth's death: "Today we have lost the comfort of Elizabeth's presence but she remains the heart of this family," the statement released by her family read. "We love her and will never know anyone more inspiring or full of life."
Edwards was diagnosed with cancer in 2004, just after her then husband lost the bid. It was thought that the cancer was in remission, but in 2007 doctors confirmed that it had returned.
Doctors classified her cancer as metastatic stage four cancer, and it was mainly in her bones.
See more pictures of Elizabeth Edwards here:
Elizabeth Edwards, wife of former senator John Edwards (D-NC), prepares to testify before the Senate Judiciary Subcommittee on Administrative Oversight and the Courts on Capitol Hill October 20, 2009 in Washington, DC. Edwards, a senior fellow at the Center for American Progress, testified about how reforming bankruptcy law might help alleviate the impact of some medical debt. (Getty Images)more pics »
New Jersey Governor Jon Corzine (D) (L) and Elizabeth Edwards, wife for former Sen. John Edwards (D-NC), talk before testifying to the House Energy and Commerce Committee's Health Subcommittee about health care reform September 18, 2008 in Washington, DC. The panel included researchers, health experts and academics talking about the future of health care in the United States. (Getty Images)more pics »
Elizabeth Edwards and her family attend the Glamour Women Of The Year Awards at Lincoln Center's Avery Fisher Hall on November 5, 2007 in New York City. (Getty Images)more pics »
(L-R) John Edwards, Elizabeth Edwards and Ann Moore, Chairman and CEO, TIME, Inc. attend the cocktail party before the Time Magazine's 100 Most Influential People 2007 gala on May 8, 2007 in New York City. (Getty Images)more pics »
Deena Bustillo
The Managing Editor at Livingly and lover of all things sparkly and sprinkles.